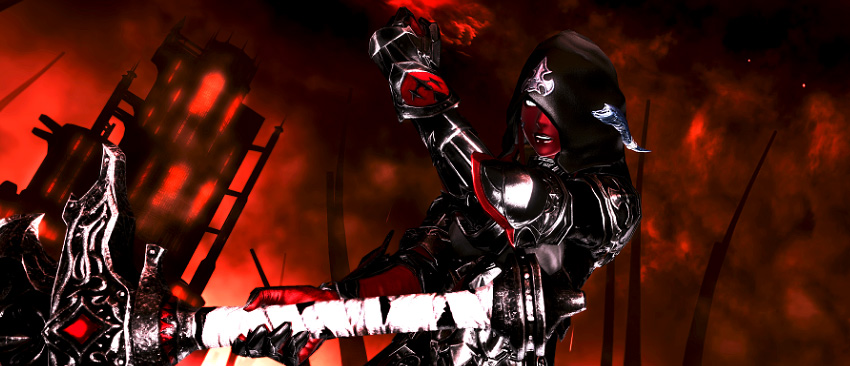 Today we bring you yet another community interview!
One year ago, we had our first featured patron in our cover - Rena Nox. If you've been around Eorzea Collection, you might know Rena for their unique aesthetics and possibly for being the best person in the whole world!
This month, I finally got to reach out to Rena again and do an interview (which unfortunately didn't exist back then).
So read on Eorzea Collection's exclusive interview!
Hey, Rena!
To start us off, can you tell us more about yourself?
Hello, everyone!
I'm Rena Nox, a 42-year-old from Nagasaki, Japan, and I've been in FFXIV since 1.0.
Currently, you can find me on Goblin!
How long have you been playing FFXIV and what drew you to it?
Coming from other MMO games like WoW, Guild Wars, and EVE I was not very impressed with the gameplay in 1.0. The story was compelling and was shaping into something good but the gameplay was horrible for me. I kept my character but would rarely login except to see if anything changed for the better. I also am very active in competitive FPS games and would always find myself distracted by that.
Eventually ARR (2.0) was coming out and I wanted to give it a try, so I returned to the game. I played on and off during ARR and Heavensward. I finally decided to give the game a real try when Stormblood was coming to a close and more specifically after I saw the Shadowbringers trailer. That trailer, I guess you could say, gave me the push I needed to finally seriously play FFXIV. So I created a new account (mainly because I could not remember my login info for my old account and that it was tied to an old phone for OTP which I have since fixed) and started fresh.
I moved to a US based data centre and took the system recommendation of Goblin and the rest as they say is history.
As for what drew me to the game, I have played Final Fantasy games since the first one came out back in the 1980s. IV, VI, and X were my favourites. And as I said above the trailer for Shadowbringers was what sealed my interest in this game.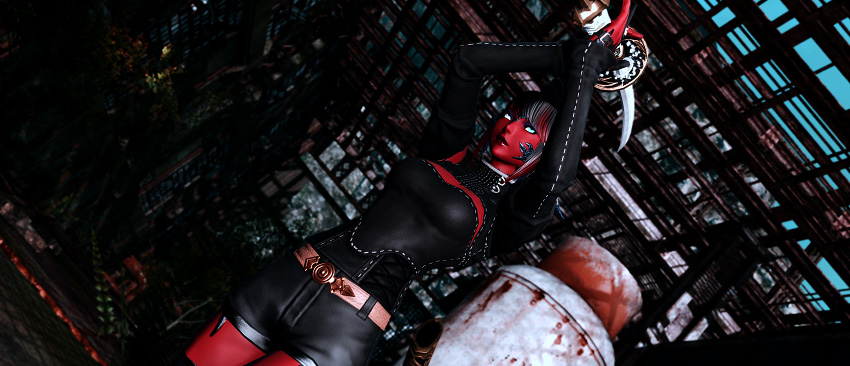 What is your favourite thing about FFXIV?
I guess I would have to say a few things. First and foremost, it's a very special MMO in which we are the main focus of everything going on. What I mean is, in a game like WoW you are secondary to the epic story happening around you, whereas in FFXIV you're in the centre of it.
The cast of characters, the tie-ins to other titles, and of course the music - all make this a very special and memorable journey we all are in.
Next, I would say the community of players. This game, for the most part, has one of the best player communities I have ever seen online. I think the shared journey we all have taken in the story has also helped that community thrive.
People really care about one another here and it shows regardless of what server you are on.
Were you always as invested in glamour or did that interest develop over time?
(laughs) I suppose that looking glamourous has been something I have tried to do in any game I play where I am able to. I would like to think of my characters in any game to be a reflection of myself, or at least who I would like to be if I could.
So yes, I have always been invested in the glamour aspect of the game. It is the best way I can think of to express ourselves to others and show our own creativity.
What about in your everyday life, are you as fashion-conscious as you are in-game?
When I was younger, I cared a lot more about how I looked personally when I went out.
Trying to look attractive and fashionable, now that I am older (42) not so much.
Also, I work in a Datacenter Vault everyday, where it is freezing cold! So lots of warm and furry things dominate my wardrobe.
The rest of the time, it's t-shirts and shorts, with leg warmers or leggings. Especially over the last year, being indoors the vast majority of the time.
Can you walk us through your process of creating a glamour?
If I am going to make a new glamour, it's usually because I saw an item that I've just become fixated with. If I do not have it already, I have been known to farm things an insane amount of times to acquire it!
I try to design an outfit around that item then. Sometimes this results in success, sometimes in failure, but I usually learn something each time to improve what I make later.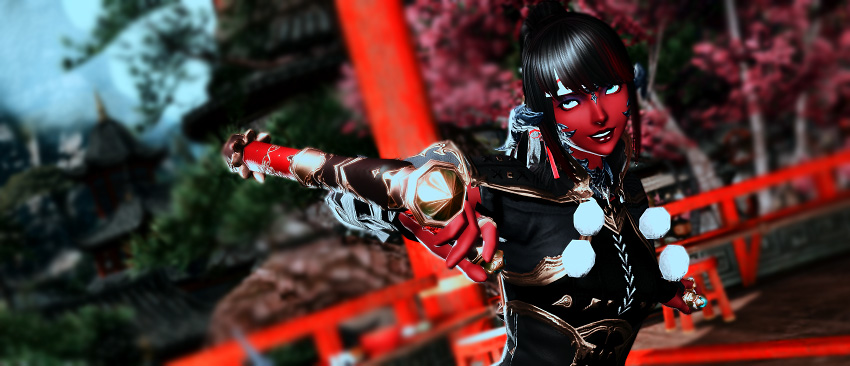 Do you have a go-to glamour or gear piece?
I would say I change things often, especially if I start to see lots of people wearing similar things.
I like to look unique, which is also why I chose this red skin for my character.
As far as something I've used a lot, or that I always have on one outfit, 2B's boots are always in there somewhere!
NieR Automata is basically my favourite game ever and the clothing styles in that game just appeal to me, and those boots specifically go with lots of other glamour items very well in FFXIV.
In second place, I would say the Expeditoner's thighboots are always also in some glamours I have.
What about a favourite in-game colour?
Being a red-skinned Xaela now, blacks and whites and reds seem to go best with my skin tone.
If you look through my glamours, you will see they are dominated with these colours.
I have tried to branch out into other colours, as of late, although I'm leveling up an alt specifically for the purpose of showing off some new things, so look forward to that soon!
We know glamour is the true endgame, but is it your main focus in the game or do you mix it up with other activities as well?
Hmm, I would say the acquisition of clothing is what dominates most of my in-game time. I also like to do housing decorations, as well, which in the end, I suppose, is just an extension of my glamour addiction! (laughs).
But aside from that, I like the hunts! I have spent many hours hunting A and S Ranks!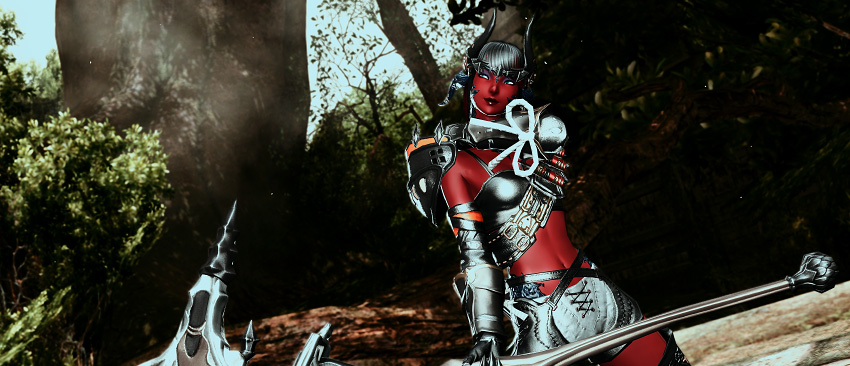 If you could wish for one thing in FFXIV, what would it be?
I would wish that it stays around for many more years to come! Though I suppose if Square decides to make another we would all find ourselves there anyways.
How did you first find out about Eorzea Collection?
I was searching for specific gear on Google, and honestly found it by accident in the fall of 2019.
What do you love the most about Eorzea Collection?
I love that it is a place for people to showcase their creativity to their peers, get feedback or help if they ask for it, and be among others that share their passion for fashion! Hmm, that even rhymed! (laughs)
What about Eorzea Collection, if you could wish for one thing, what would it be?
Over the past year and a half, I have seen this site explode in membership and features! Specifically things I would like to see have already been brought up countless times in the suggestions threads, and I know that you are hard at work implementing some of them!
I would ask that once profile for creators exist, that links to articles and interviews such as these. That would be a nice inclusion.
Also, I would like to see some of our other gifted members writing their own articles to post on the site with your approval. Some people here seem to have a knack for reporting and writing about things. Not naming any names! (laughs)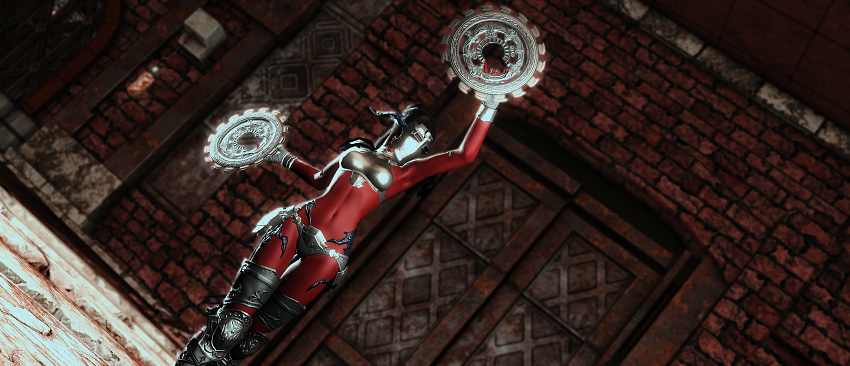 Thank you so much for your time, Rena!
Do you have any closing remarks?
I would like to thank you, Edeon, first of all, for creating this space that we all share, and your tireless efforts to improve it everyday. You ask for nothing in return, and have created something that you should be very proud of, which I will be happy to support as long as it exists!
For inspiration with their incredible glamours and or help they provide others, I would like to give a shout out and thank:
Lohia Aihol (Cerberus), Ihon Nuzhysa (Spriggan), Leisha Aysheen (Ragnarok) and Nya Nya (Faerie).
For the many character arts I have commissioned, I would like to give a shout out to Bianca Gonzales @sephineedraws on instagram and twitter.
Back on my own server, I would like to give a shout out and thanks to my friends: Cyn, Vox, Mjra, Tipper, Cat, Scouter, Kuro, Gabby, Wicked, Cali, Glacier, Cletis, Isay, Asuna, Rhiyden and most especially to Serene Stormwrath.

Thanks again, Edeon, for letting me say a little bit of something, as I am rarely inclined to do so.
See you all around!